The Presidential candidate of the Labor Party, Peter Gregory Obi, has shared an incident where he interacted with a group of his supporters outside the courthouse on Wednesday.  Continue Full Reading>>>
He recounted advising them to temporarily hold back the son of the deceased governor of Kogi, Prince Mustapha Audu, who had accused him of being biased towards certain ethnic groups.
Taking to the official Twitter page on Thursday, Obi addressed the issue of numerous individuals impersonating him. He brought up this matter in response to Prince Mustapha Audu's claim that Obi abruptly ended a phone call with him after speaking in the Igbo language.  Continue Full Reading>>>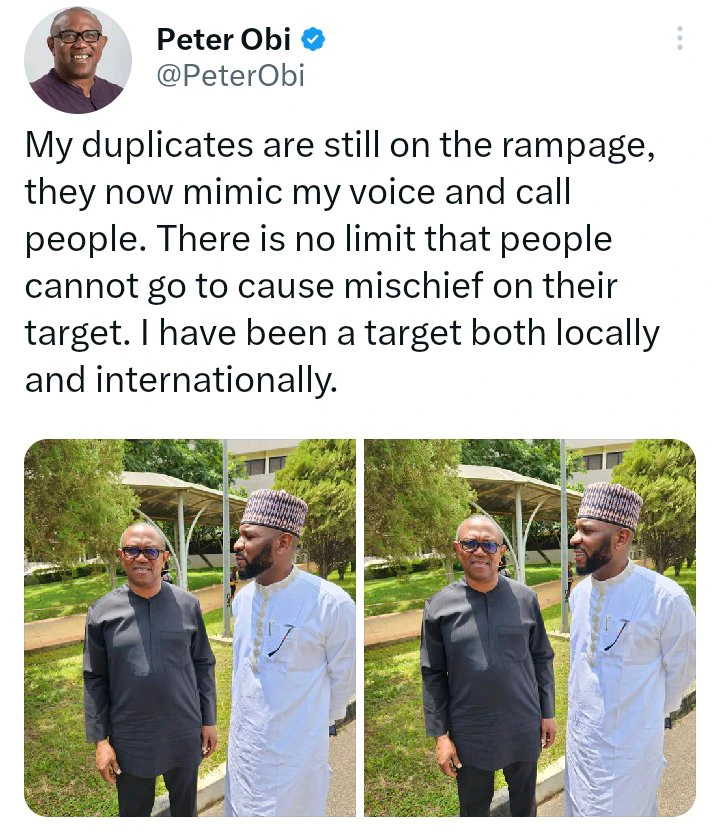 Obi explained that during the court session, he was informed by Yunusa Tanko, the spokesperson for the OBIDATTI group, that derogatory remarks were being made about him in relation to the case outside the courtroom. As a result, he requested the OBIdients to kindly delay Prince Mustapha Audu so that he could attend to the matter after the court session.
In his post, Obi expressed concern that these fraudulent individuals are still actively causing harm.
Below is screenshot of his post.