Chuks Ohuegbe, a veteran journalist and public affairs commentator, has criticized the Muhammadu Buhari-led Federal Government for releasing transition documents to President-elect Asiwaju Bola Ahmed Tinubu before his official inauguration. Tinubu is scheduled to assume office on May 29.  Continue Full Reading>>>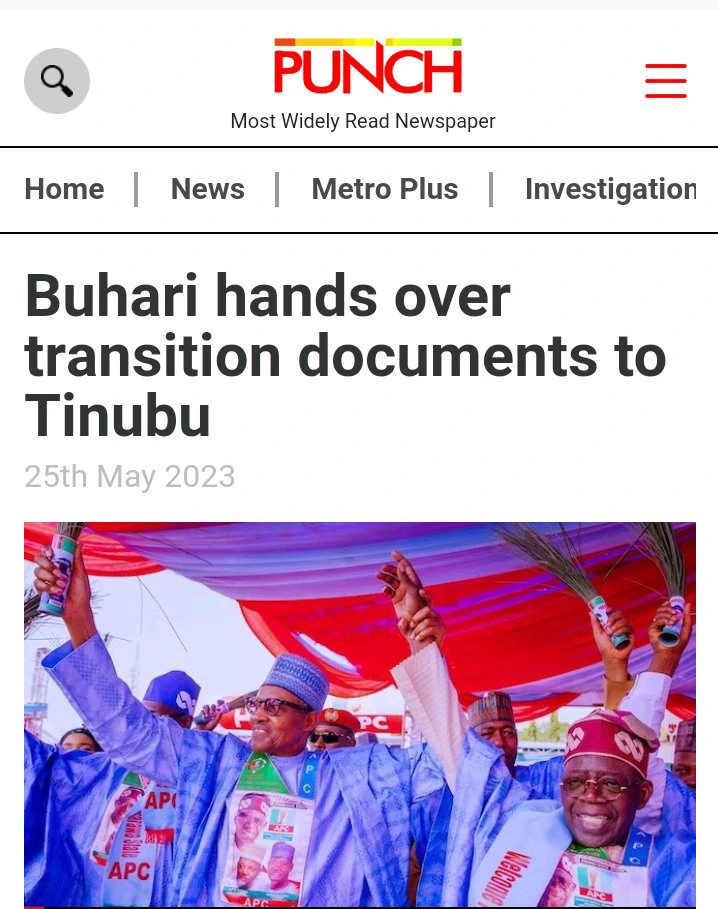 According to reports from various news outlets, Buhari met with Tinubu on Thursday in the Federal Capital Territory for a special event organized by the office of the Secretary-General to the Federation (SGF) to facilitate the transfer of power from Buhari's administration to Tinubu's.
The handover of transitional documents was carried out in compliance with "Executive Order 14," which mandates the transition council to submit handover notes to the incoming President.  Continue Full Reading>>>
Ohuegbe, who serves as the Director of Publication at The Pilot Newspaper, recently appeared on Africa Independent Television's 'Kaakaki' program, where he criticized the government's actions, describing them as 'strange' and 'unconstitutional.'
He highlighted that it is unprecedented for the current government to provide transition documents to a President-elect before their official swearing-in ceremony.
Furthermore, the experienced journalist pointed out that since Nigeria's return to democratic rule in 1999, no Head of State has transferred transition documents to their successor before taking the oath of office from the Chief Justice of Nigeria on May 29.
Ohuegbe emphasized the importance of transparency and openness in the process, urging that Nigerians should be kept informed about the information being withheld.
He stated that the individual who assumes the oath of office before receiving the necessary paperwork is the core issue. Typically, these events occur at Eagle Square in Abuja on the day of the inauguration, where the outgoing president hands over the transition documents to the incoming president before the Chief Justice of Nigeria administers the oath of office.
Given the current tensions, Ohuegbe emphasized the importance of the outgoing administration demonstrating transparency and honesty during the transition to alleviate concerns.