Don't Take Sides With Tinubu, Wait For Court To Decide—Obi
Peter Obi, the candidate of the Labour Party in the 2023 presidential election has criticized the US Secretary of State, Antony J. Blinken for calling the 'President-elect', Bola Tinubu.  Continue Full Reading>>>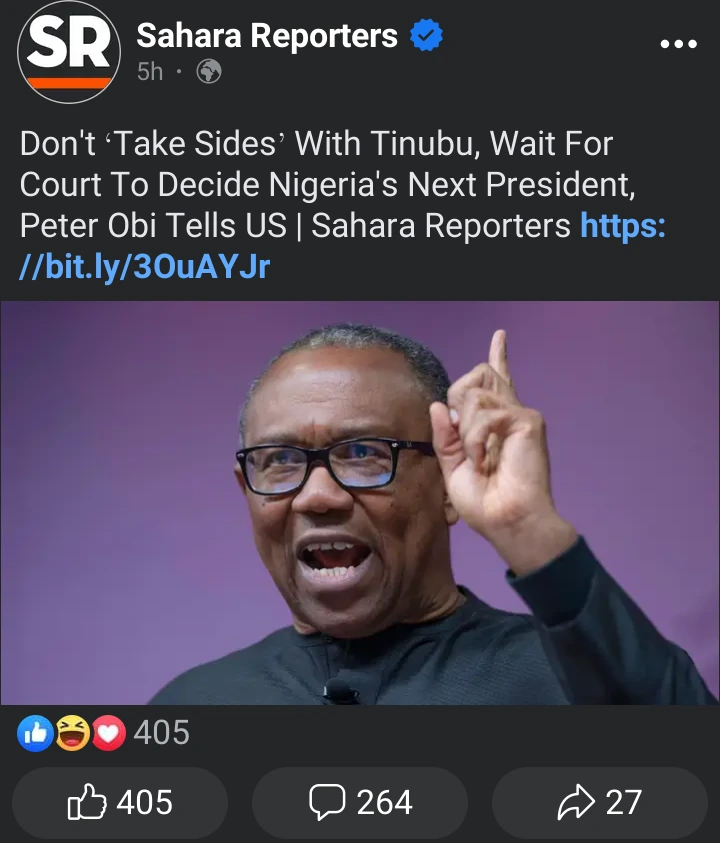 Source: Sahara Reporters
In a series of tweets on Friday, Obi said since Tinubu's victory was still being challenged in court, the US should have waited for the outcome of the litigation before responding to "political developments in Nigeria in a manner that faintly suggests taking sides".
He said, "There is still a lack of clarity based on the U.S. Secretary of State, Antony J. Blinken's call to APC's presidential candidate, Bola Ahmed Tinubu on 16th May 2023. The most fundamental tenet and core value of democracy is the rule of law.  Continue Full Reading>>>
"Nigeria's democracy is founded on these principles which the American people hold dear. Without the risk of interfering in Nigeria's domestic affairs, the U.S.-Nigeria relationship should be guided by the core values of democracy. "Above all, Nigerians expect that the U.S. responses to our affairs should be based on mutual respect, shared ideals, aspirations, and interests which ought to transcend the considerations of any individual.
Adesina Mocks Obasanjo, Babangida, Abacha Over Moves To Overstay In Power, Says Buhari And His Team Will Leave Peacefully
The Special Adviser to President Muhammadu Buhari on Media and Publicity, Femi Adesina, has stated that the President and his team will leave the seat of power peacefully on May 29, 2023, and not "deteriorate".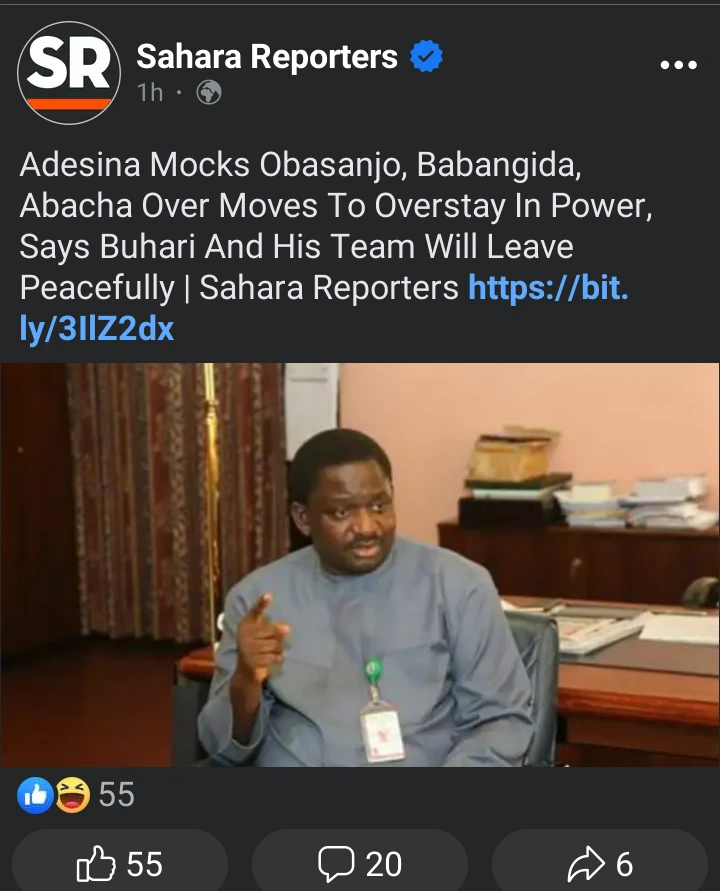 Source: Sahara Reporters
President Muhammadu Buhari had said he could no longer wait for May 29 handover day for him to return to his Daura home in Katsina state. The 'President-elect', Bola Tinubu is scheduled to be sworn in on May 29, 2023. Adesina, in his article titled, 'The Good In Goodbye,' released on Friday noted that attempts to sit tight in office by Ibrahim Babangida, the late Sani Abacha, and Olusegun Obasanjo, did not end well.
He explained that if you don't say goodbye at some stations in life, you begin to vegetate, atrophy, deteriorate, decline, and wilt away. Noting that you become a problem, rather than part of the solution. He said, "Yes, in serving Muhammadu Buhari, the honest Fulani man, deliberately misunderstood by some people, and who refuse to yield any ground, I've lost good friends, family people, brethren in the church, who couldn't understand why I was loyal to a jihadist, a nepotist, and a Fulani herdsman.
Mbang: A Fearless Activist In Pursuit Of Better Society – Obasanjo
Former President Olusegun Obasanjo yesterday mourned the death of Methodist emeritus prelate, Dr. Sunday Mbang, describing him as a "deeply pious man, a true critic, and fearless activist, who dedicated his life to the pursuit of the common good of the society."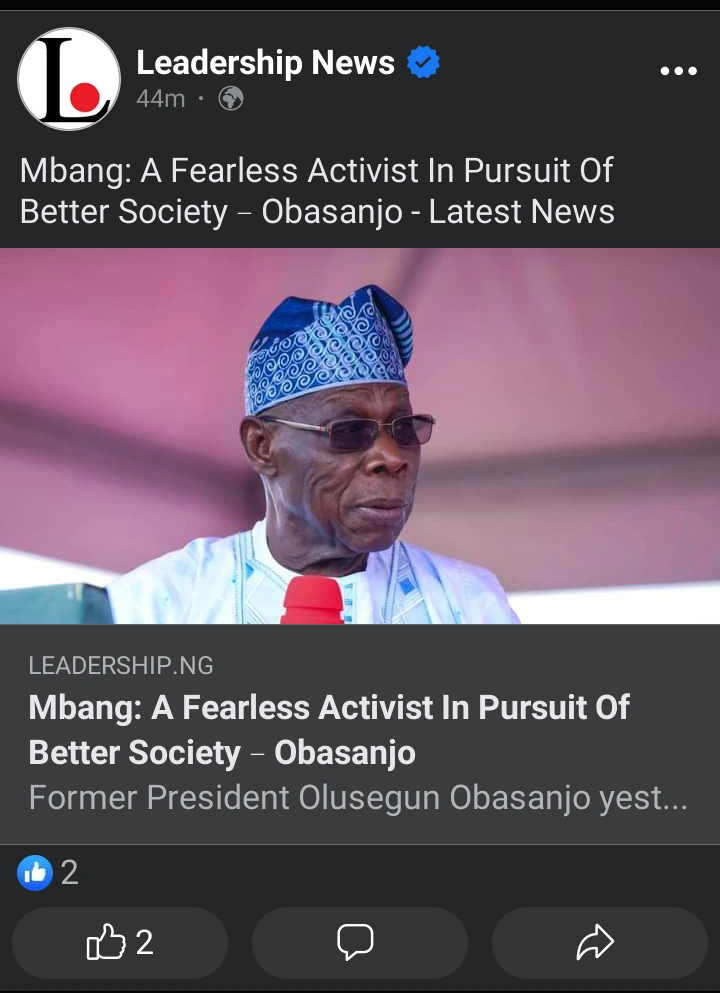 Source: Leadership News
Obasanjo, who reacted to the news of Mbang's death from Malta where he had gone on an official engagement, said his passage was a colossal loss to him personally and for the country as a whole. His condolence message, which was made available to newsmen in Abeokuta, the Ogun State capital by his special assistant on media, Kehinde Akinyemi, described the late cleric as a strong advocate of justice for the vulnerable, "a sharp constructive critic of Nigeria's political economy, a model and an example for Christians all over the world.
"His death, no doubt, is a colossal loss to me personally. I didn't know he would soon leave us and depart to the great beyond as he was looking relatively well when last I visited him in Uyo on May 2, 2023," he disclosed. Obasanjo said he knew Mbang, "as a fearless soldier of Christ, winning souls for the Kingdom and despite having had a sprinkle of disagreements based on principles along the way, we often ended up agreeing to agree and this has strengthened our friendship and brotherliness in Christ and enhanced my personal respect for him and what he stood for.
Two held over US consular officials' killing
The Anambra State Police Command says it has arrested two suspects in connection with Tuesday's attack on a convoy of US Consulate officials along the Atani/Osamela Road in the Ogbaru Local Government Area of Anambra State.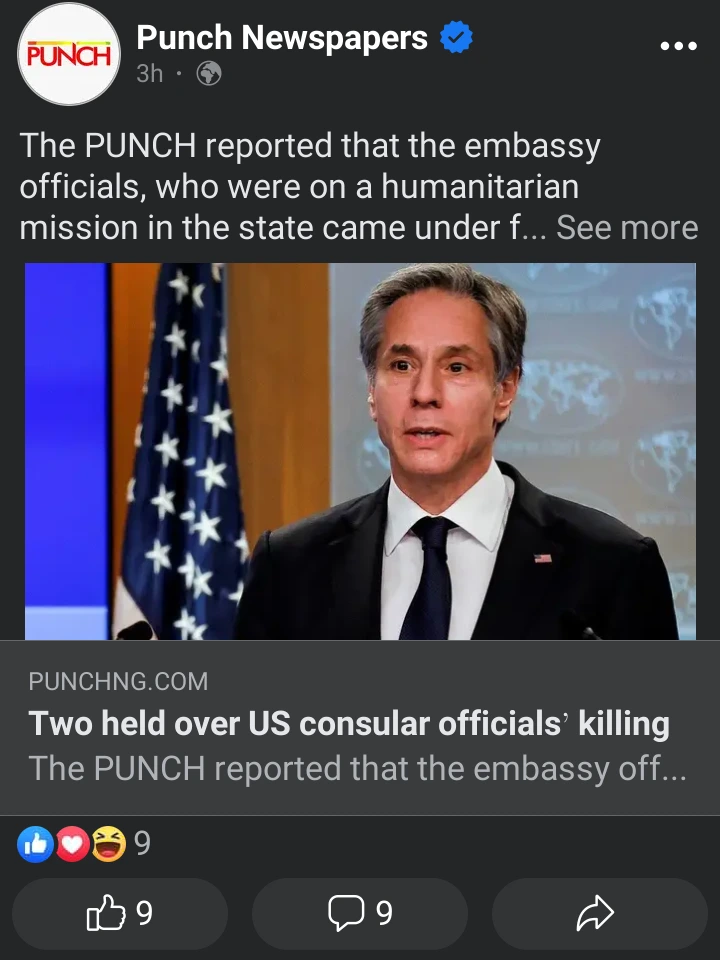 Source: Punch Newspapers
The PUNCH reported that the embassy officials, who were on a humanitarian mission in the state came under fire while they were passing through the area. The attack, according to the police, led to the death of three US consulate officials, who are Nigerians, as well as four policemen accompanying the convoy.
The Commissioner of Police in Anambra, Echeng Echeng, at a press conference in Awka on Thursday, said two suspects were arrested after a joint operation by the police, the Army, and the Navy. Echeng said, "As you are probably aware, a team of officials from the Lagos Consulate of the United States of America and their police escorts was ambushed on May 16, 2023, between 12:00hours and 14:00hours, along, Atani/Osamela Road in Ogbaru Local Government Area of Anambra State by suspected Eastern Security Network and Indigenous People of Biafra.