In a recent Facebook post, prominent Nigerian novelist Sam Omatseye expressed strong criticism of Peter Gregory Obi, the presidential candidate of the Labour Party (LP).  Continue Reading>>>
Omatseye firmly stated that no matter how hard Obi tries, he cannot manipulate the constitution to favor his own interests.
Omatseye alleged that Obi may attempt to twist the constitution to support his petition, but his efforts will ultimately be in vain as the constitution does not prevent Bola Ahmed Tinubu, the President-elect, from being sworn in as the President of Nigeria.
It is worth recalling that Peter Gregory Obi filed a petition against the outcome of the presidential election, arguing that Bola Ahmed Tinubu was unlawfully declared the president-elect due to alleged electoral misconduct. The hearing for the Labour Party's case has been postponed to May 17th, 2023.  Continue Reading>>>
Omatseye strongly accused the Labour Party's presidential candidate of attempting to undermine the constitution, likening him to a viper lurking in tall grass, waiting for the perfect moment to strike. However, Omatseye firmly believes that Obi's attempt will ultimately fail.
He stated, "They cannot, no matter how much they try, upturn the constitution. They are the vipers slithering inside the tall grass, waiting for the venom moment. But the law, bearing Tinubu, is a bird stalking the sky with its bold, piercing eyes.
The bird sees it. The snake thinks it is ambushing the rabbit, but it is the prey, the prey of its self-destructing conscience. The bird, in its benevolent majesty, would just soar ahead. And the Nigerian bird is the eagle, regal, gorgeous, and, where necessary, ruthless."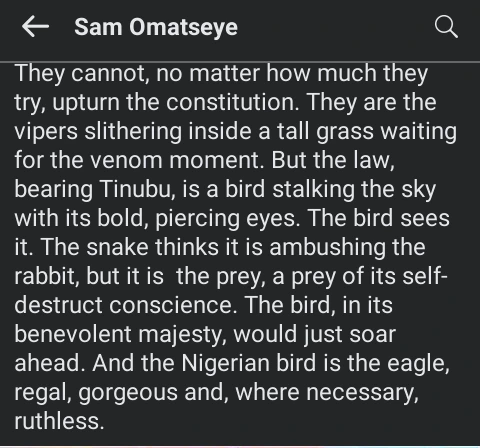 Omatseye's remarks reflect his firm belief that the constitution will prevail over any attempts to manipulate it for personal gain. He evokes powerful imagery to emphasize that justice will ultimately be served, likening Tinubu to a vigilant bird of prey and portraying Obi as a snake deceived by its own ill intentions.