The founder of Jehovah's Eye Salvation Ministry, Prophet Godwin Ikuru, has revealed that some pastors and Christian bodies in Nigeria made him an enemy for supporting the candidacy of Bola Ahmed Tinubu.  Continue Full Reading>>>
While speaking to reporters, Prophet Ikuru made it clear that he supported the All Progressive Congress (APC) same-faith ticket, adding that God told him that Tinubu will win the election.
According to the report published by Nigerian Tribune, Prophet Ikuru said that he got many threats to his life for supporting Tinubu.
He said that supporting Tinubu was one of the hardest things he has ever done but he stood firm and made sure that he promoted Tinubu's aspiration.  Continue Full Reading>>>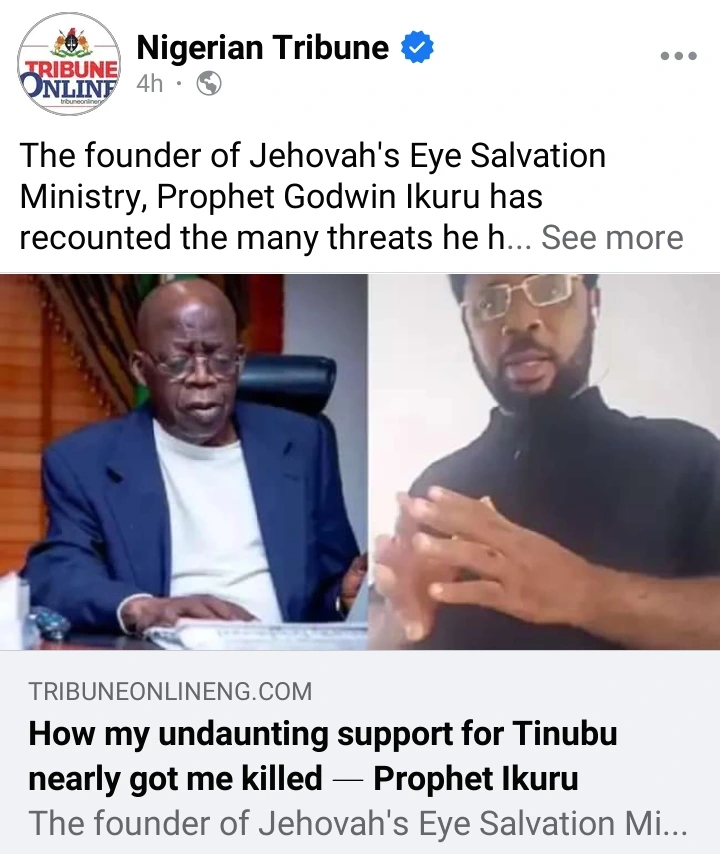 "Supporting Asiwaju is one of the most difficult and threatening things I ever did in my life. Pastors and Christian bodies in Nigeria made me an enemy because I supported the Muslim-Muslim ticket.
They abused and called me several names because of this, but I was not deterred because God does not care about religion."