A yet to be disclosed group has annouunced that they will form their own administration in Nigeria if incumbent president, Muhammadu Buhari goes ahead to inaugurate the winner of the 2023 presidential election, Bola Ahmed Tinubu as the next president of this country.  Continue Full Reading>>>
With President-elect, Bola Ahmed Tinubu's swearing in already drawing close, there have been lots of preparation from members of the ruling APC party, all geared at making sure that such swearing in is successful.
However, while many persons are looking forward to Bola Tinubu's inauguration ceremony, others including a group has expressed dissatisfaction with regards to the announcement of the APC presidential flag bearer as the President-elect by INEC.  Continue Full Reading>>>
According to the group, the likes of Festus Keyamo, Femi Fani-Kayode, Nasir El-Rufai, Nyesom Wike, Bola Ahmed Tinubu and MC Oluomo should be arrested for their inciting comments, if they want the country to be united.
Speaking further, the group noted that;
"We were in this country in 2011 and 2015 when President Muhammadu Buhari himself made statements backed by the APC that they will form a parallel government.
Our own parallel government we are forming is not a treasonable offence, it is a decision to disagree with whatever decision this president Muhammadu Buhari's will take come May 29.
If they are in one side forming their own government of Bola Ahmed Tinubu, we will be on the other side forming a government that we declared a winner for the 2023 presidential election, which we already have the results because we have agents scattered across Nigeria..
It's going to be peaceful, they are going to announce the results, announce the winner and declare the winner our own president. So it will be the president of the Nigerian masses because we have totally rejected the results presented by INEC as fake and false. So practically, come May 29th, wherever we are going to do it, we are going to declare the winner of the BVAS as president of Nigeria.
It's not treasonable and the fact remains that the right thing is being done. We are not fighting anybody, we are doing it peacefully and if the president does not want to give us that request, it's a simple thing, but for now we will keep demanding for the release of the results given by the BVAS that has stated that somebody won that election and that election must be counted".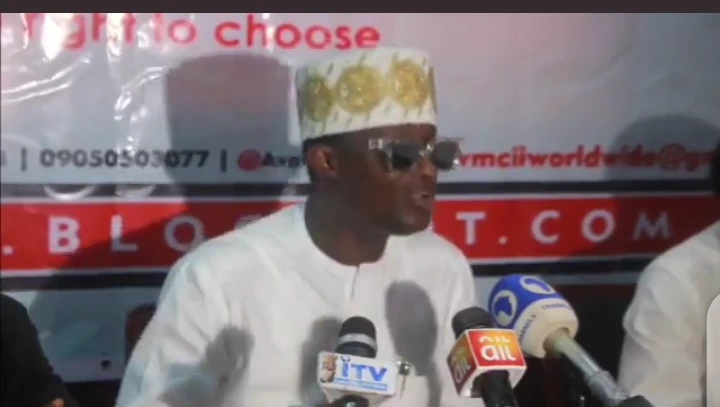 To watch the video, click on the link below;
A group calls for a parallel govt if Buhari goes ahead to swear in Tinubu, stating that INEC must obey its guidelines which is constitutional. Mahmood Yakubu is about to throw Nigeria into anarchy just bcos money

Bvas Patience Ozokwor Dangote Bishop Oyedikpo WWIII John Doe NDLEA pic.twitter.com/VaiAXtxlMM

— Comr_Mayor (@comr_mayor) May 21, 2023