The Minister of State for Labour, and Employment,  Festus Keyamo (SAN), has come under heavy criticism after hailing a now- popular chef, Hilda Baci as she embarks on a quest to break the Guinness World Record (GWR) for the longest cooking marathon.  Continue Reading>>>
Naija News reports that Baci has been cooking for 83 hours, 59 minutes to break a record currently held by Lata Tondon, who was reported to have spent 87 hours, 45 minutes, and 00 seconds cooking in Rewa, India, in 2019.
Baci, who is a native of Akwa-Ibom has been receiving public support from Nigerians who are cheering her on via social media and physically.
Joining the train of support, Keyamo via his Twitter handle on Sunday night, commended Hilda's determination, saying she was on the cusp of history.  Continue Reading>>>
He wrote: "Dear Hilda Baci, this little note is to add to the voices of millions of others urging you on to break the Guinness Record for the World Longest  Cooking Marathon.
"You just have a few hours to go. Yes, you can achieve this, not only for yourself, but for millions of others who would be inspired by your bravery to take on this challenge.
"I have learnt all my life that the difference between failure and success is a small gap that can be bridged by courage, determination and the will to take risks. You are on the cusp of history! Please, hang in there!"
However, the statement did not sit well with young Nigerians who lashed out at the minister for his statement to the chef;
See post and reactions below;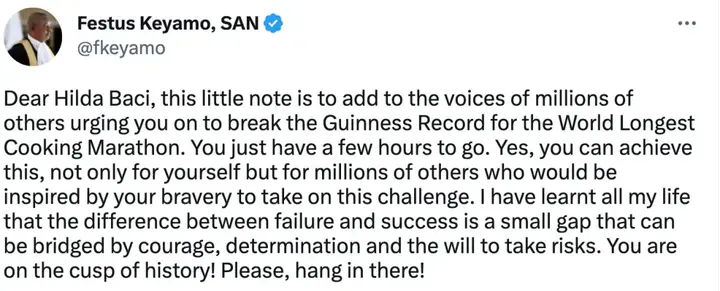 Bob banke wrote: "Atleast she is cooking real food and her hard work will see her thru,your master only know how to cook cocaine and steal Election,face your criminal life and let her be Great!!"
AMONI – THE MOST BENEFICIENT wrote: "You people with bad energy and omen to steer clear of Hilda.  Darkness cannot mix with light."
Dr. Saint Dikachi wrote; "You see how she is working hard , she did not rig it unlike your oga."
Effiong John #MyPeterObi wrote: "No INEC is gonna rig her out. I guarantee you of that. She's encouraging the youth that hardwork pays. Something your party is against. Morever, she's Obidient and doesn't eat Agbado so keep your wish to yourself."
SHaNKa wrote: "She is bringing glory to Nigeria… …Una dey bring shame, by bringing criminal, known drug lord to lead Nigeria."
Kaykay wrote: "She worked hard for this. She didn't snatch the record and ran away with it."