Legal practitioner, and one of the Labor party's presidential campaign spokespersons, Dele Farotimi, SAN, has reacted after media personality, Kadaria Ahmed Said not getting 25% in Abuja will be a problem for any candidate.  Continue Full Reading>>>
Kadaria, in the video, was speaking about the Constitutional requirements for a candidate to be declared the winner in a presidential election. In the video that is currently getting reactions from Nigerians, she said that two things are very important.
She said the first is getting the highest votes while the second is getting 25% of votes in 2/3 (24 states ) in Nigeria and the FCT. She said anyone who does not make the 25% in FCT will have a problem.
The video has currently been getting lots of reactions. Dele Farotimi, reacting to her statement said that she has said the inconvenient truth. In his post, he wrote " The inconvenient truth"  Continue Full Reading>>>
To watch Kadaria's statement, check the link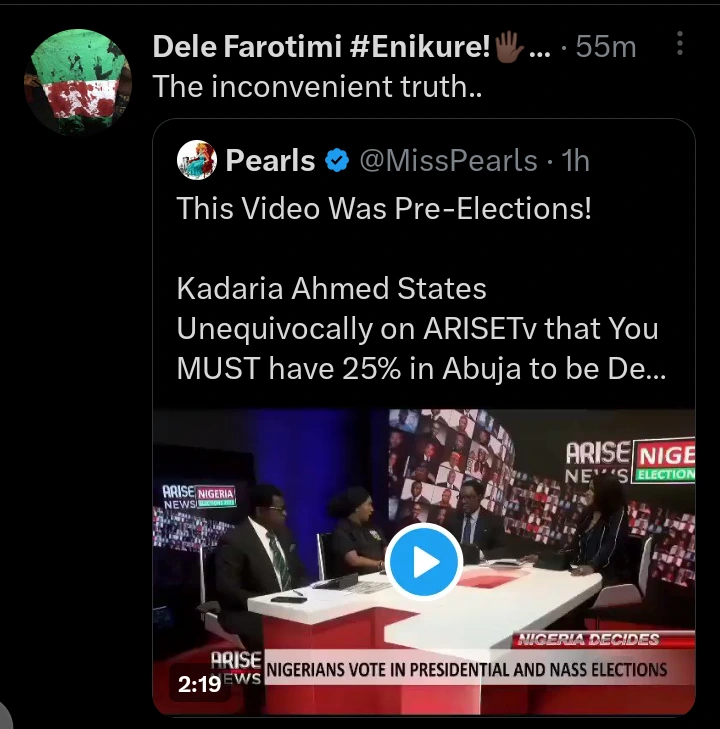 This Video Was Pre-Elections!

Kadaria Ahmed States Unequivocally on ARISETv that You MUST have 25% in Abuja to be Declared President of Nigeria! pic.twitter.com/nlvgXtfiny

— Pearls (@MissPearls) May 21, 2023