A six-year-old girl, Sherifat Usman, is currently battling for her life after a middle-aged woman, Fatima Malam, allegedly stabbed her in Kano State.  Continue Reading>>>
PUNCH Metro gathered that Fatima stabbed the girl to protest her father's advice to her husband to marry a second wife.
She was said to have stabbed the victim many times in her stomach.
Sources told our correspondent that Fatima was annoyed when she learnt that Sherifat's father, a friend of her husband, has been the one advising him to get another wife.  Continue Reading>>>
But Fatima's husband identified as Malam claimed that his wife is mentally deranged.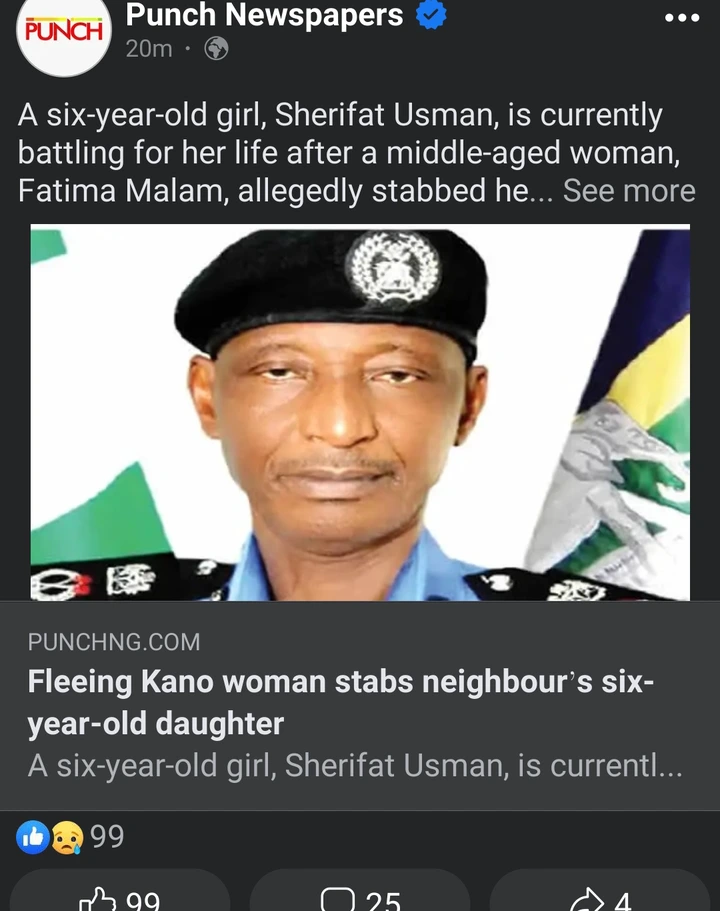 The news headline has generated mixed reactions among the Facebook users. Kindly read some of the reactions from Nigerians that commented below the news on Facebook:
She is evil,what is the young girls crime?she should take her case to her husband and the girls father not the small child,I now understand what my father used to say,wen the enemy can't get to the parents dey use the children,everyone she be watchful of dia environment.
U will never hear bad News from akwaibom I. Love my state
I was shocked when I saw the video. It's inhumane. I was shocked when I saw the video. It's inhumane.
Good morning my fellow Nigerians,,,bad news will be far from us ijn Amen. So sad What could have caused this?
Even their women goes around with dagger
What is your opinion on this matter? Kindly drop your comment in the box below, and share the post.